Beauty & Self
Books & Music
Career
Computers
Education
Family
Food & Wine
Health & Fitness
Hobbies & Crafts
Home & Garden
Money
News & Politics
Relationships
Religion & Spirituality
Sports
Travel & Culture
TV & Movies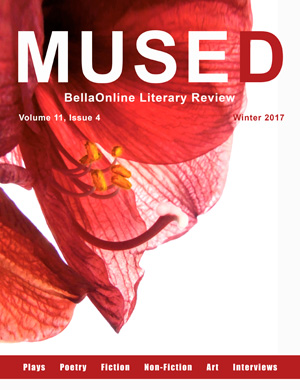 We all travel on this blue-green ball around our very own star each year, sliding a little closer, sliding a bit further away. The balance is critical. Too much closer and we'd roast. Too much further away and we'd freeze.

We should be aware of just how blessed we are that our Earth is "just right" - and do what we can to keep our world healthy. It's the only one we have.

Enjoy the Mused Winter Solstice 2017 Issue



Using Orchids as Medicine
Orchids - Anu Dharmani, Editor

Orchids have been used as a cure for number of ailments by local people and tribals. Checked out how you can also use your orchids as a medicine.




Benefits of Fish Oil in the Mediterranean Diet
Nutrition - Moss Greene, Editor

A healthy Mediterranean diet, that includes omega 3 fish, has now been shown to reduce your risk of heart disease, stroke, metabolic syndrome and diabetes.




Girl in Snow Book Review
Suspense / Thriller Books - Karen Hancock, Editor

Written in the style of Gone Girl, this fascinating debut novel tells the story of a murdered 15 year old girl through the eyes of Cameron, who stalked her, Jude, who hated her, and Russ who is investigating the murder. Well-written and fascinating.




Seeds of Destruction
Baptist - Celestine A. Gatley, Editor

Your thoughts can spiral out of control. One simple thought can plan a seed of destruction in your life. A simple thought that you may consider harmless could turn into a life separated from God.




Negative Talk – 2 Words That Stop Self Development
Self Development - Dr JOY Madden, Editor

People are forever using negative talk or negative speak (negative words and phrases) in their daily conversations without realising the huge impact this can have on their life. This self development article discusses one of the most common phrases that can significantly affect personal development.




Green Eggplant Curry Recipe
Indian Food - Sadhana Ginde, Editor

My delicious Green Eggplant Curry hails from the South Indian state of Andhra Pradesh & is made using small, round green eggplants. This unique Asian variety is very tasty & also easily available in any Indian store or Asian market. Try making this simple & yummy curry for your family today :-)


| Google+ |
E D I T O R R E C O M M E N D E D
Low Carb Charts


A must have reference guide for any low carber. Keep the carb counts of fruits, veggies, meats, alcoholic drinks and more at your fingertips.
Investing $10K in 2015


Have you received a windfall or inheritance? Confused how to manage it? Many people find the subject of investing to be complex. It doesn´t have to be. You can manage your money yourself.
Fall in Love With Your Feminine Power


This 8-week DailyOm online course incorporates meditation, energy healing, and women´s energetics work to help you heal, empower and awaken your connection to your feminine energy body. It includes print materials, video, and guided audio meditation. No prior meditation or energy work experience necessary. Embrace your full power, health, joy, and spirit!