Beauty & Self
Books & Music
Career
Computers
Education
Family
Food & Wine
Health & Fitness
Hobbies & Crafts
Home & Garden
Money
News & Politics
Relationships
Religion & Spirituality
Sports
Travel & Culture
TV & Movies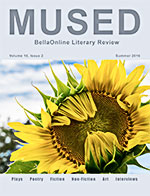 For many people, summertime is the perfect time to explore creativity. Plein air artists bring easels to gardens and beaches, showcasing nature's colors in oils, acrylics, and watercolors. Photographers ferret out a million sights to immortalize. Poets and writers stretch languidly beneath a shady oak tree, listening to the gentle buzz of insects, and constructing entire worlds out of the ether.

Enjoy the creativity of our community of artists - and then explore your own! We'd love to see your works for upcoming issues!

Summer Solstice 2016 issue of Mused

How Helpful is Hypnotherapy?
Geriatrics - Patricia Villani, MPA, PhD, Editor

Many successful studies have shown that hypnotherapy is useful in overcoming smoking, overeating, pain, insomnia, phobias, sleep deprivation, and anxiety. Learn more about this complementary/alternative approach used along with mainstream medicine to help us improve our quality of life.




Going to New Delhi, India
Romantic Getaways - Marianne de Nazareth, Editor

The Indian Habitat Centre, New Delhi, is a great place to visit any time of the year




Women's Colleges of California
California - Korie Beth Brown, Ph.D. , Editor

In 2016, the premise of a woman's college may seem outdated. But these institutions have reasons for remaining single-sex.




A Yoga Sequence for Abs
Yoga - Korie Beth Brown, Editor

Crunches don't work them a small part of the core. Here's a yoga sequence that focuses on the entire torso.




Packing Light For A Mexico Cruise Vacation
Cruises - Nancy Schretter, Editor

If you're flying to your embarkation port for a cruise to Mexico, consider packing light. Traveling with just carry-on luggage can help avoid lost or delayed baggage problems caused by flight problems. Here's a detailed carry-on only packing list for a Mexico cruise plus some helpful packing tips.




Rose and Lavender for Botanical Perfumes
Fragrance - Juliette Samuel, Editor

In a world of beauty and scent, no wonder we're being smitten by the bug of making our own Botanical Perfumes. Botanical/natural perfumes are becoming the go-to way of wearing scents.


| Google+ |
E D I T O R R E C O M M E N D E D
LoMásTv


Highly recommended product, if you really want to improve your Spanish. While watching the video you have the option to read, in subtitles, the words in Spanish and, if you also chose it, you can read the translation (in English) for it. Simply... ¡Genial!
Giada´s Kitchen


In this book each recipe is a burst of taste, colors and combination of flavors; the instructions are really easy to follow for anyone, and the final result of virtually every dish is presented in a beautiful arrangement of photographs.
Life Extension Mega Green Tea Extract


Green Tea, or Camellia Sinensis, has been a hot news topic in recent years. Green tea is a main staple consumed by Asian populations for thousands of years and is purported to have numerous beneficial effects on health - one of them being weight loss.