Beauty & Self
Books & Music
Career
Computers
Education
Family
Food & Wine
Health & Fitness
Hobbies & Crafts
Home & Garden
Money
News & Politics
Relationships
Religion & Spirituality
Sports
Travel & Culture
TV & Movies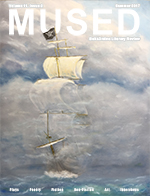 Our time on this Earth is fleeting and precious. We often know that in a vague, intellectual sense, and yet we can find ourselves whittling away those finite minutes without mindful thought. We should celebrate the beauty in a child's smile. The radiant sound of saying "I love you" to that special person. The warm touch of a hand. The delicate scent of a wildflower.

Enjoy the Mused Summer Solstice 2017 Issue



SketchBook Pro Review - The Price & Resources
Digital Art and Design - Diane Cipollo, Editor

I've been researching natural media painting software and Autodesk's SketchBook Pro. I've been curious about SketchBook since the addition of the Copic Color Library and Copic Brushes. What I like is the yearly subscription is $29. My favorite blog articles on the Autodesk website.




Peaches and Cream Pie Recipe
Desserts - Karen Hancock, Editor

This luscious pie is especially good when made with local fresh peaches which are available from roadside stands and farmer's markets during late summer. It's easy and has a minimum of ingredients.




2017 Emmy Winners announced
Entertainment News - Trina Boice, Editor

The 2017 Emmy rewards are now announced. TV lovers enjoyed the Sunday night awards ceremony. Below is a list of the winners.




Blood Defense Book Review
Suspense / Thriller Books - Karen Hancock, Editor

Samantha Brinkman is asked to represent a detective who has been arrested for a double murder. Samantha is unsure whether he is guilty, and her representation of him puts her and her defense team in grave danger. This is a great thriller.




Misspelling as Warning Signal
School Reform - Maeve Maddox, Editor

Something is not right when the same adults who are able to perform basic math functions and recall song lyrics and sports statistics are unable to spell the words they use in day-to-day writing.




Curel Hydratherapy Wet Skin Moisturizer
Body Care - BB Lee, Editor

The Curel Hydratherapy Wet Skin Moisturizer is the ideal skin care product for the woman with a very busy schedule.


| Google+ |
E D I T O R R E C O M M E N D E D
Fall in Love With Your Feminine Power


This 8-week DailyOm online course incorporates meditation, energy healing, and women´s energetics work to help you heal, empower and awaken your connection to your feminine energy body. It includes print materials, video, and guided audio meditation. No prior meditation or energy work experience necessary. Embrace your full power, health, joy, and spirit!
Addicted to Stress by Debbie Mandel


A Woman´s 7 Step Program to Reclaim Joy and Spontaneity in Life (Hardcover) In this highly original program for stress reduction, stress management expert and radio personality Debbie Mandel explains that women who are constantly stressed out have forgotten the dreams of the free-spirited girl living inside them before they became somebody's wife, mother, or workplace colleague.
Living Language Spanish


You don´t need to know Spanish to travel to the Southwest USA, but it will enhance your experience. This is the best-selling Spanish language instruction product at Amazon.com.